Sorry again for the delay. Been on the west coast this week and managed to spend Saturday at
Coachella

!!!!
Will post that later in the week - but I want to get at least the first 7 days of the Philly fest up first before it all fades from memory as I wrote nothing down (yes that was dumb.)
Dipped into animation on day 6 at the festival.
Princess
is a
Danish
picture about a brother, August, who takes revenge on the porn industry that killed his sister (Christina, the titular princess) while trying to care for her daughter. The film also incorporates live action moments as well - via home video flashbacks shot in happier times by the brother. As is often the case the animation is used to show things that
wouldn
't be allowed with real actors. The young girl (7 or 8 maybe) has been abused mentally, physically and sexually by those around her mother – in one scene she cries not wanting to take a bath however once she is finally in the tub we learn that its not normal child resistance but because "bath" means something totally different in the world she has lived in. This is the moment the brother snaps and begins his vengeful quest.
Horrific violence involving both uncle and niece ensue and the secrets of August and Christina's past come out as the film careens to its tragic climax. This is a very impressive feature debut for director Anders
Morgenthaler
. I saw his student short film "
Araki

: The Killing of a Japanese Photographer"
at the
Chicago Film Festival
in 2003 which had a very similar plot though the quality of the animation has greatly improved along with a deeper plot. He is currently working on a live action feature which I eagerly await.
Nothing follows ultra-violent
Danish
animation better than a 40's screwball comedy! Given the 77 minute run-time of the previous film I was able to head over to catch
The Philadelphia Story
for the first time and on the big screen. Aside from several projection issues the film was enjoyable though I have to admit that don't see it as quite the classic that others do. This may be because some of the jokes are cultural references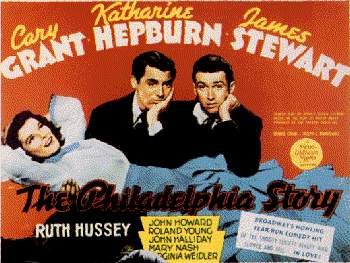 to the time period in the film (1920s). The film was followed by a talk by U of the Arts professor Camille Paglia who could not possibly have fit more words into her 25 minute talk. It was more of a lecture than a Q&A (not unexpected) but she pointed out some of these references and also talked a bit about the films legacy and the elite
pre
-WW1
Main Line
Society in which the film is set. Naturally she's a huge fan.
And that is all for day 6. Late-